UK TOURS
Before each Summer programme we are able to run a UK Tour (6 days and 5 nights) on request.
UK2Learn's tour itinerary is always bursting with a range of exciting excursions and activities to appeal to everyone and will most definitely make a lasting memory. See a sample tour timetable below.
All of UK2Learn's tours will take you to the most popular sights and attractions across the UK, whether it be exciting cities or picturesque countryside UK2Learn has a destination to suit everyone. UK2Learn's UK Tours are open to students aged 8 up to 17 and also to adults, accompanying adults and parents from the ages of 18 upwards.
For more information about booking onto one of UK2Learn's Summer tours please contact info@uk2learn.com.  Remember to book your place as soon as possible to avoid disappointment!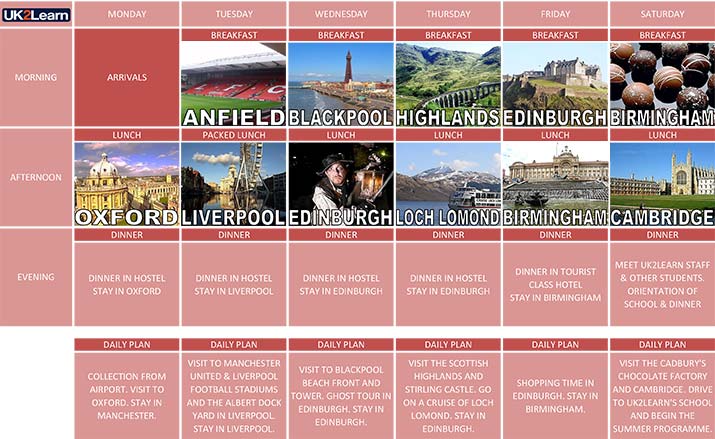 The Accommodation:
All accommodation on UK2Learn's UK Tours are within 3* or higher hostels and hotels.  The accommodation's suitability for UK2Learn's tours has been thoroughly assessed before sending any groups.
Students will be first split by gender and then by age and UK2Learn also takes all suggestions and requests on board to ensure that everyone is happy about their accommodation arrangements.
Transport:
UK2Learn uses safe and comfortable coaches and minibuses for all of its UK tours.