GUARDIANSHIP SERVICES
Investing in an overseas education for any child can be an incredibly difficult decision but the reward of a unique and life-changing experience is a fantastic one.
Whilst at the school, your child's houseparent will take responsibility for academic progress and welfare, but there are times during the academic year when the school must be able to hand over these responsibilities to a properly appointed guardian.
In the UK it is a school requirement for overseas students to have a guardian who is based in the UK. Someone who can be on hand 24 hours a day, seven days a week to offer parental, logistical and emergency support.
There can be unforeseen events such as illness or injury which requires an emergency trip to the dentist or hospital, closure of airports and cancellations of flights which require last minute logistical assistance and disciplinary incidents which may result in a student being unable to remain on school premises and requiring overnight accommodation for a period of time.
There are also more practical day to day aspects of a student's study in the UK which will need additional support and assistance such as purchasing a UK sim card, opening a bank account, managing school trip schedules and purchases of additional kit, booking safe and reliable airport or private transfers off school grounds and most importantly homestay accommodation for fixed exeats and half term when the school is closed and a student is not travelling home.
UK2Learn provides this high-quality caring, personal support in the form of a professional guardianship service and delivers a service that cares for every aspect of an overseas student's stay in the UK, therefore removing any worries that a parent may have.
UK2Learn is a company small enough to care about each student as an individual but also big enough to cope with any demands professionally, with a personal touch.
UK2learn aims to deliver a service that enhances every aspect of an overseas student's stay in the UK.  UK2Learn work closely with the school and houseparents and all staff, associates and host families support this caring and personal ethos that UK2Learn Guardianship values so greatly, thus ensuring that all of our guardianship students receive the highest standard of care possible. With representatives and host families throughout the United Kingdom, help and assistance is never far away.
As part of our UK Guardianship service, the following support is offered to all students:
communication with the school, parents and child as required

24-hour telephone contact in case of emergency

two visits to your child's school during their academic year

monitoring of students' progress and providing feedback and recommendations

regular phone contact with your child

dedicated member of staff providing administrative support

arranging and allocation of a kind and caring host family for exeats and half terms – all families are DBS checked

arranging travel to and from school at the beginning and end of each term, exeat weekends and half terms

arranging reliable and personal airport transfers by a member of the UK2Learn Guardianship team of drivers

arranging appointments to open a UK bank account

assistance when purchasing a UK phone sim card

assistance with parents' visits to the UK e.g making hotel reservations

proof of UK guardianship letter for visa purposes and to show Immigration at UK Arrivals

advice on school selection (if required)

assistance with school applications (if required)

complimentary birthday card

24-hour support and advice
UK2Learn do everything we can to make our students feel welcome and to safeguard and promote the student's welfare outside of school. 
UK2Learn has numerous host families from all the corners of the UK that provide a warm, safe, and caring environment for students; a home from home when they are in an unfamiliar country.  
It can be an incredibly rewarding experience for both host and student and many of our students and host families stay in touch for years to come.  For the student, staying with a host family enriches the entire learning experience as it allows them to immerse themselves into British culture, the English language and experience a local way of life. It is an opportunity for the host family to open their home, and share their day-to-day family life with an international student. Long-lasting friendships are often made, which makes hosting even more rewarding.
We take care to select a host family who will take a genuine interest in your child but will respect his/her privacy, cultural background, religious beliefs and dietary needs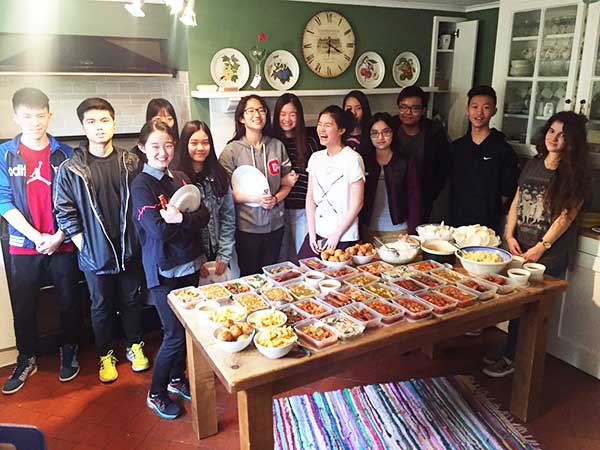 "I wanted to say thank you to Suzie personally and wish her a good summertime and thank her for taking care of me. Since I wont see her please tell her i had a very nice time with her this school year and thank you for taking care of me."
"Thank you very much!!  You were the best guardians ever, always there for me when I needed, I am very grateful"
"I just wanted to let you know that i got the grades to go to London College of Fashion and the finance is now sorted as well which means I'll be going soon. There is no way I would have been able to come back to Sidcot and make it to uni without you!  You have been such a huge help with just about everything, I remember when I was a y11 pathway terrified of moving to the UK and now I'll be studying there for the next three years.  I am sure you have many students in London next time you're there. Let me know I'd like to invite you to dinner as a thanks for everything that you have done for me."
"Thank you for taking care of me these 2 years.  You have helped me to deal with homesickness…offered me a comfy and nice environment to rest and study during holidays.  I really appreciate and I am grateful that these 2 years have passed by without and mishaps with your help.  I wish you all the best and have a great summer.  I will miss you!!"
"It was so nice to see you on Saturday:  Thank you very much for your kindness and hospitality. I will keep in touch and let you know about Emma's results. ps I will always recommend UK2learn!"
"Happy Easter to you and your team.  You helped us so much with taking care of our kids and their stuff. Thank you so much."
"I would like to express my gratitude for what you did for me over my two years in England. Living in England for the first time, you looked after me and ensured that I settled in and I am forever grateful. I am currently attending The University of Maryland, Baltimore County in America as a Biochemistry major. I would like to thank you again for everything."
"We would like to say thank you for all you and your team has done form Niclas and us during his wonderful and life changing time. We can't tell how lucky we were to have you as Niclas's guardian! Thank you to all."
"Thank you. Everything continues going very well with Teresa at her host family, a really nice family, also the sons who are now at home are lovely. Please greet them on my part and tell them how good Teresa is with them."
"Thank you a lot for helping my daughter Catherine. We all feel very lucky to meet you who is very kind and friendly."